Real Estate
State Real Estate Pages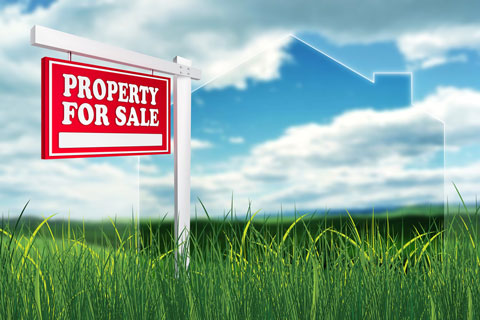 Real Estate Definition and History
Real Estate is real property, consisting of land and the buildings and structures thereon. The ancient Greeks believed in private property rights in a religious context, and this made it difficult to buy and sell real property without religious authorization. The real estate industry expanded during the Roman Empire, and its early emperors and merchants invested extensively in land, both in Rome and in its dominions. Many Roman soldiers were landowners, and land holdings were allotted to many Roman war veterans. However, over the course of many years, land was gradually concentrated under the ownership of aristocrats, while many small landowners lost their lands and became tenants. This situation gave rise to the feudal system of the Middle Ages, with its distinction between lords and vassals. In the modern era, real estate has become a major industry, with vacant land as well as residential, commercial, and industrial property being freely traded and financed on the open market. Many governments such as the United States Government are major landowners as well, as evidenced by information on the
Bureau of Land Management
website, for example.
An early Real Estate transaction is recorded in
Genesis chapter 47, verse 20
of the Old Testament: "And Joseph bought all the soil of Egypt for Pharaoh; for the Egyptians sold every man his field, because the famine prevailed over them; and the land became Pharaoh's". Later, in the New Testament era,
Acts chapter 4, verses 34-35
records that "as many as were owners of lands or houses, selling them, brought the price of what was sold and laid it at the feet of the apostles; and distribution was made to each according as any one might have need". More information about the Real Estate industry is available on this
BLS - Real Estate
page. Recent news headlines about real estate are available on this
Real Estate News
page.
Links
For Sale By Owner
- https://www.forsalebyowner.com/
This website offers all types of assistance, including mortgage calculators, real estate resources, and marketing tips, for people who want to sell their homes themselves.
Local Real Estate
- https://www.localrealestate.us/
Introduction to the real estate business and its component parts such as real estate regulatory bodies, real estate organizations, Multiple Listing Services, and local real estate agencies.
Property Managers
- https://www.realestatecompanies.us/property-managers.htm
Introduction to the real estate industry's property management specialty, with a discussion of job responsibilities and careers.
Real Estate Agents
- https://www.realestatecompanies.us/real-estate-agents.htm
Learn about the training and licensing requirements for real estate agents, and find information about real estate careers.
Real Estate Appraisers
- https://real-estate-appraisers.regionaldirectory.us/about.htm
Overview of the real estate appraisal field, with a discussion of educational requirements and licensing issues.
National Association of Realtors
- https://www.realtor.org/
The National Association of REALTORS® is an American trade association whose members are involved in all aspects of the residential and commercial real estate industries.
Realtor.com
- https://www.realtor.com/
Realtor.com is a comprehensive real estate search engine with access to its own exclusive listings plus access to public content. The website is consulted by home buyers, renters, and real estate agents.
RealtyTrac
- https://www.realtytrac.com/
This website provides information about houses all over the country, including foreclosures, real estate auctions, bank-owned homes, and for-sale-by-owner properties.
Rent
- https://www.rent.com/
This website provides rental listings for houses, apartments, and condominiums. Rental property listing tools and marketing resources are included on the website.
Zillow
- https://www.zillow.com/
Zillow is a home and real estate marketplace that can help homeowners, home buyers, sellers, renters, real estate agents, mortgage professionals, landlords and property managers find and share vital information about homes, real estate, mortgages, and home improvement.