Lodging
State Lodging Pages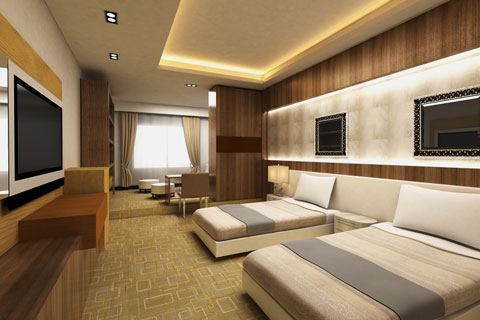 Lodging Definition and History
A lodging is a sleeping accommodation, especially a type of residential accommodation where people live temporarily. From earliest times, hospitable households have provided temporary accommodations for travelers; even today, bed-and-breakfast lodgings and cozy inns provide lodging places for travelers and vacationers. Ancient Greek cultures established guest rights conventions that were widely accepted, and in ancient Rome, people began to travel more extensively for both business and pleasure. During the Middle Ages, homes and monastaries provided lodging places for travelers, particularly as coach travel became popular. Today, the primary lodging genres are commercial establishments known as resorts, hotels, motels, or hostels. Resorts cater to leisure travelers and recreation seekers, whereas hotels cater more to business travelers and motels market their lodgings to automobile travelers. Hostels are designed to provide inexpensive food and lodgings to specific market sectors such as students, travelers, or workers.
Interesting references to lodgings are found in
Genesis chapter 19, verse 2
of the Old Testament, which reads "Behold now, my lords, turn in, I pray you, into your servant's house, and
lodge
, and wash your feet; and ye shall rise up early, and go on your way", and in
Philemon chapter 1, verse 22
of the New Testament, which reads, "But withal prepare me also a
lodging
;". More information about the history of the
Lodging
industry is available on the
Hospitality Net
website.
Links
American Hotel & Lodging Association
- https://www.ahla.com/
AH&LA is a national association that represents all sectors and stakeholders in the lodging industry. For more than a century, AH&LA has served the educational, informational, and advocacy requirements of hoteliers, hotel managers, and hotel industry suppliers.
Hospitality Sales & Marketing Association International
- https://www.hsmai.org/
HSMAI is committed to growing business for hotels and their partners, and is an industry advocate for intelligent, sustainable hotel revenue growth. The association provides hotel professionals and their partners with marketing tools, insights, and expertise.
Hotel Management
- https://hotel-management.regionaldirectory.us/about.htm
Learn about the educational requirements and job responsibilities of hotel managers and desk clerks.
Hotel Reviews
- https://www.hotelreviews.us/
Whether traveling for business or vacation, this website can help you find, and distinguish between, luxury hotels, business class hotels, moderately priced hotels, and budget motels.
Hotel Suites
- https://www.hotel-suites.us/
Suite hotels feature spacious suites or rooms with small kitchens; they usually cater to business travelers and vacationing families who desire home-like accommodations for extended stays.
Independent Lodging Industry Association
- https://www.independentlodgingindustryassociation.com/
The Independent Lodging Industry Association has been formed to promote, protect, and advance the interests of independent lodging owners and their management teams, and to provide a network of resources to support member efficiency, profitability, and professionalism.